Archive for
March, 2007
OK now, how many of you actually remember that I went to KL last week?
Anyway, the main agenda was to visit the Matta Fair — which I should say was quite an eye opener because I've never been to a Matta Fair before. I've been to the Star Education Fair eons many years ago but they're, well, different. For one, there weren't as MANY institutions promoting their education programs but that was back in 1998. I'm sure things have changed (a lot) since then. But then again, I'm quite sure there weren't as many "halls" at the Education Fair compared to the Matta Fair :)
I'm not sure about you, but I have a feeling that the travel packages offered by the multitude of travel agencies were actually very similar. They may use an entirely different approach — such as promoting their VERY LOW fares but did not make it obvious that the low fares are (actually) exclusive of air tickets, GOTCHA! — to attract visitors to their booths.
And I'm also sure that there weren't as many people stuffing multi-coloured brochures into your hands when you were trying to figure out where you wanted to go in the first place. These travel companies printed so MANY brochures I think they destroyed a very HUGE portion of our tropical rainforests!!
Plus, you don't get to see cute-and-double mascots promoting their reward points and what-nots during education fairs, do you? I bet all that you see is finance companies dying to lend you some money to "help you achieve your dreams" with sky-high interest rates that will send your retired parents back into the rat race..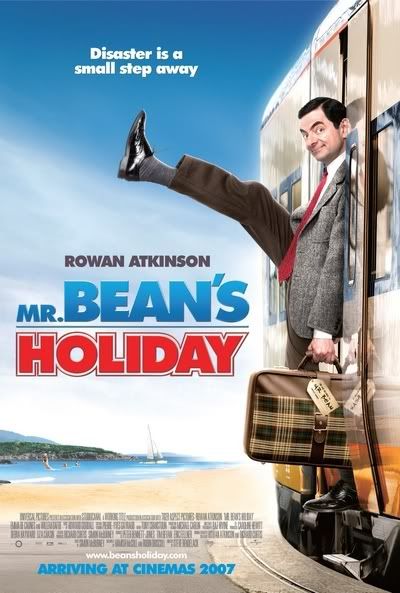 "Mr. Bean's Holiday" arrives in cinemas nationwide on 22 March 2007.
I know you know I am back.. But I have sooo much stuff in my hands that blogging seems to be at the bottom of my to-do list.. To those of you whose blogs I drop by frequently, I'll try to pay you a visit as soon as I possibly can..
Meanwhile, let me show you something you can laugh at *winks*
I was thinking, maybe in the yesteryears, nobody went to dentists to get their dentures made (because dentists were unheard of?). Plus, a lot of people pull their own teeth out *ouch* Instead, people went to shops that specialized in making dentures, like the one above :)
And as far as I'm concerned, these wooden clogs are nice:
But the craftsmen whose shops are located on the upper floors of Pasar Besar Ipoh make prettier ones.
But then again, nobody wears wooden clogs anymore, no? There are a couple of shops along Jonker Walk in Melaka that sell pretty beaded clogs that are meant to be worn as fashion sandals, not kitchen- or toilet-slip-ins.